Unwind in Style: 5 Ways to Relax and Enjoy Your Backyard Garden
Step outside into your backyard garden and let the stress of the day melt away. Your garden and outdoor space can be a tranquil oasis from the hustle and bustle of everyday life, giving you a chance to relax in style. Whether you're looking for some alone time or want to gather with friends and family, there are plenty of ways to unwind in your own backyard paradise.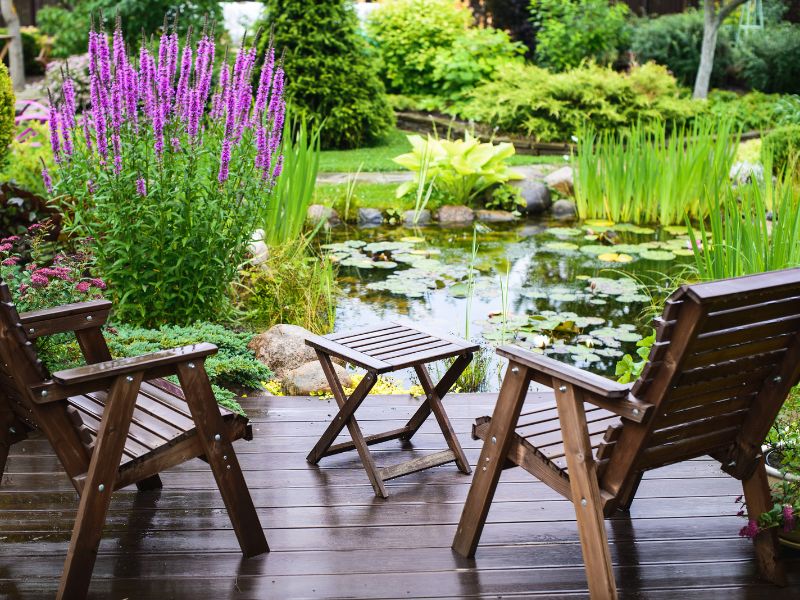 1
Create a Backyard Garden Oasis
When it comes to creating a relaxing garden oasis, there are endless possibilities. But where do you start? Here are a few ideas to get you started on creating your very own private retreat.
One of the most important things to consider when creating a relaxing garden or backyard is comfort. Make sure to choose furniture that you will actually want to spend time sitting in. Outdoor sofas, lounge chairs, and hammocks are all great options.
Add some ambience with lighting. String lights are not only aesthetically pleasing, but they can also help create a more relaxed atmosphere. Hang them around your seating area or above your pool to set the mood for relaxation.
Keep in mind that the pool should appear to be in a pristine condition. Dirty-looking water bodies are uninviting and unappealing. You surely would not want to relax by the side of a pool that shows visible signs of algae, dirt, or debris. Therefore, it would make sense to take the necessary steps to clean the pool or arrange for professional Pool cleaning services before you decide to unwind in that space.
If you really want to unwind in style, consider creating an outdoor oasis with a few key elements like a water feature, potted plants, some lanterns. This will be your own personal paradise that you can enjoy any time of day or night the way you feel like.
Once ready, you could host dinner parties, get togethers, or simply spend time on your own, drinking a cup of coffee and reading. In fact, you could even use the privacy and setting to enjoy a joint; you're a cannabis delivery away from relaxing in your personal oasis!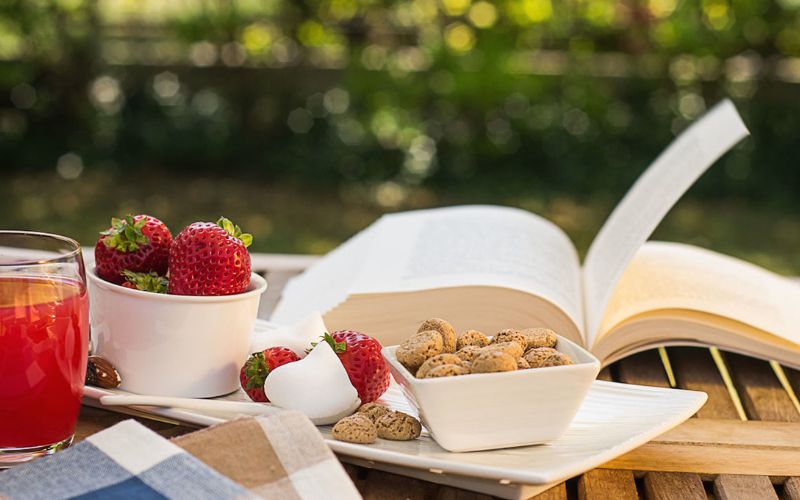 2
Design an Outdoor Reading Nook
Your yard should be a haven – a place where you can relax and enjoy the outdoors. One way to make your yard more inviting is to create an outdoor reading nook. Here are some tips for designing an outdoor reading nook that will be both comfortable and stylish:
Choose a spot in your yard that gets good sunlight during the day and has a comfortable chair or bench. If you have a porch or deck, that's a great spot for your reading nook. But any sunny spot in your yard will do.
To enhance the beauty and functionality of your outdoor reading space, consider installing pergolas and lattice. With the help of an outdoor space renovation company specializing in LATTICE & PERGOLAS IN OLDSMAR, FL, or in your region, you can transform your yard into a tranquil retreat, perfect for unwinding with your favourite book. The pergolas and lattice not only provide shade but can also add a touch of elegance to your backyard, making it a welcoming and inviting environment for relaxation.
Make your reading nook feel like cozy by adding some potted plants or hanging baskets. Plants not only look nice, but they also help to filter out noise and create a sense of privacy. Some tall tropical palms set a calm mood and are easy to care for.
If you want to take your outdoor reading nook to the next level, you may want to order a bespoke garden room in Brighton (or near you). Setting up something like this will give you a completely enclosed and dedicated space to read your books and enjoy the tranquility of your garden.
Don't forget the little things that will make your reading nook more enjoyable, like a side table for your coffee and snacks, or a pretty throw blanket for chilly evenings. A few well-chosen accessories can really make your reading nook special.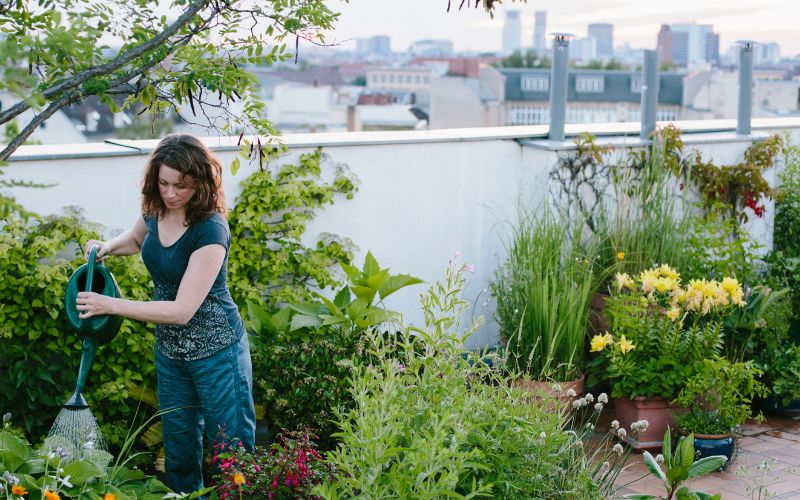 Tending a garden is one of the most fulfilling and rewarding activities that you can indulge in. Not only does it look beautiful, but it also has several benefits for your physical and emotional health.
If you spend time working in your garden, you'll be doing some light exercise which can improve your cardiovascular health while getting fresh air outside. Plus, gardening allows us to connect with nature as we care for our plants and watch them grow over time.
As a result, this can help reduce stress levels and improve mental clarity by providing an escape from daily routine or stressors; it's like having a therapeutic sanctuary right at home!
Taking care of your own private green space also encourages healthy eating habits by growing fruits and vegetables that are free from harmful pesticides or chemicals – leading to more nutritious meals on the table.
The beauty of gardening lies not just in its visual appeal but also the numerous benefits that come with it – both physically and mentally!
There's no better way to enjoy a beautiful afternoon than by getting outside and engaging in some fun yard games with your friends. Whether you prefer the classic game of corn hole or the timeless bocci ball, these activities provide an excellent opportunity for people to come together and have a great time.
One thing that makes yard games so appealing is their simplicity. They require little equipment but offer endless hours of entertainment. Plus, they're easy to learn and can be enjoyed by people of all ages, making them ideal for family gatherings or get-togethers with friends.
What's more, yard games encourage social interaction and foster healthy competition. There's nothing quite like the feeling of victory after sinking that last bean bag into the hole or rolling your final bocce ball closest to the pallino.
So go ahead – grab your favorite lawn game and invite some friends over for an afternoon of friendly rivalry and outdoor fun. Your backyard will be transformed into a hub of laughter, chatter, and exhilarating gameplay in no time!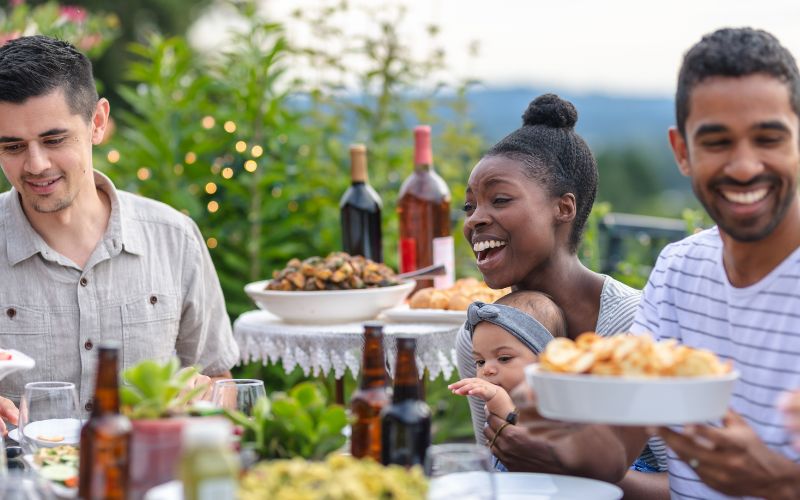 As the weather begins to warm up, there's nothing quite like gathering your loved ones and enjoying a delicious meal in the great outdoors. Whether it's at a picnic table in the park or on your very own backyard patio, dining al fresco brings about that feeling of relaxation and contentment that only comes with being surrounded by nature.
The simple act of setting up your outdoor dining area can be just as enjoyable as sharing a meal together. From choosing the perfect spot to lay down a blanket to arranging colorful plates and utensils on an outdoor table, every detail adds to the overall experience.
And let's not forget about the food! Summer is all about fresh fruits, crisp salads, juicy burgers straight off the grill and cold glasses of lemonade – or wine! The possibilities for outdoor dining are endless – from planning an elaborate dinner party under string lights to packing sandwiches for a spontaneous beach trip.
But perhaps what makes dining al fresco so special is how it encourages us to slow down and appreciate our surroundings. For instance, it allows us to disconnect from our busy lives and connect with each other over good food and even better company. So next time you have the chance, grab some friends or family members (or both!) and head outside for an unforgettable al fresco mealtime experience.
In conclusion, relaxing in your garden or backyard is a great way to take some time for yourself and enjoy the beauty of nature. We hope that these five tips have helped you find the perfect way to make the most of your outdoor space and create a peaceful retreat that's just for you!
Inspirational Garden Books
Want more outdoor ideas? These books share some simple garden design ideas that can help with a full garden makeover, or a revamp of one area. With a little creativity and planning, you can create a beautiful and functional outdoor space where you will love spending your time!

This page may contain affiliate links, which means that I may receive a commission if you make a purchase using these links.  As an Amazon Associate I earn from qualifying purchases.