Terrariums are making a comeback.  I remember making terrariums years ago using old jars and glass vases.  You didn't hear much about them for a couple of decades, but now they are back in a big way.
Terrariums are an easy way for people who live in apartments, or who just don't really like gardening, to bring a bit of nature into their homes.  And – they are really simple to care for.
Watch this quick video on how to make a terrarium.

Terrariums are nothing new.  According to the University of Missouri Extension Service, the use of transparent containers for growing plants dates back at least 2,500 years in Greece.  Back then the process guaranteed a stable environment for growing food.
Today, terrariums are more likely to satisfy our artistic desire to bring some nature into our homes.  Terrariums are easy to make and can be made using a variety of containers.
I enjoy spending my weekends "antiquing" and "junking", so I usually can pick up some inexpensive items that add some charm to my terrariums.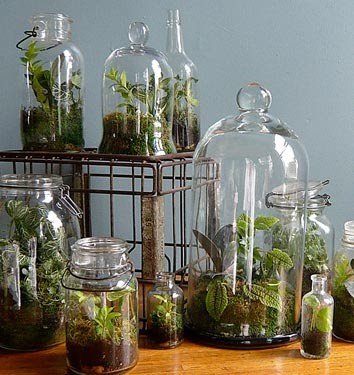 photo source: aperfectgray
Gather a group of terrariums and plants together to create a simple, yet elegant, vignette like the one below.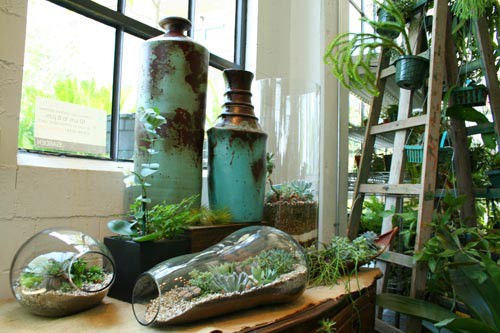 photo source:  Sweet Peach
How to Make a Terrarium
Containers – Terrarium containers should be made of clear material, such as plastic or glass.  They should have a sealed lid, or a small opening to reduce evaporation.  Make sure you clean your container thoroughly before you begin planting.
Planting Medium – You can use a variety of materials to plant your terrarium.  Typically, the first layer consists of charcoal, gravel, or small rocks.  Next you will place about an inch or two of well drained organic matter.  A pre-packaged mixture of peat moss, perlite, and potting soil is a good choice.  Pre-mixed potting soils are typically sterilized and ready to use.  Several varieties of moss are good to finish off the look and hold moisture in your terrarium.
Plants – Small plants that have a low, dense growth habit are the best choice for your terrarium. Check to be sure the plants you use have similar light and moisture requirements.  Succulents do not make good terrarium plants because the moist conditions in terrariums can easily cause rot.
Care – After planting your terrarium, mist the plants to wash off soil residue that has stuck to leaves during planting.  Do not cover your terrarium for the first day or two.
Mist the plants daily, then cover only after the leaves are all completely dry.  Carefully observe for the first few weeks after planting.  Remove any plants that begin to wilt or decay.  Disease can thrive in this environment so it is critical to keep it from spreading.
If the terrarium appears to contain too much moisture, remove the lid for a few hours to allow evaporation.  After a few weeks your terrarium should be established and the threat of disease and rot should subside.  After the initial planting, you should only need to water every four months or so.
Keep your terrarium out of direct sunlight and trim plants as they grow to the edges of your container.
Find some fun and easy terrariums project in  Terrarium Craft: Create 50 Magical, Miniature Worlds, available in our online shop powered by Amazon.
.