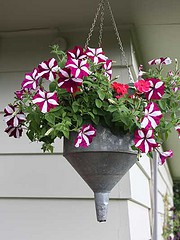 There are many reasons to create a container garden. Container gardening is a good way to dabble in gardening without throwing all your time into it. Some common reasons why people choose to start a container garden are:
Outdoor space limitations.
Physical limitations – can't bend down or are wheelchair bound.
Your patio or deck needs that extra something.
You want fresh herbs in your kitchen for cooking.
The soil in your yard is less than desirable.
And the best reason … you have a pile of "treasures" you have collected at garages sales.
I made this hanging planter above from a vintage funnel I picked up at a Flea Market.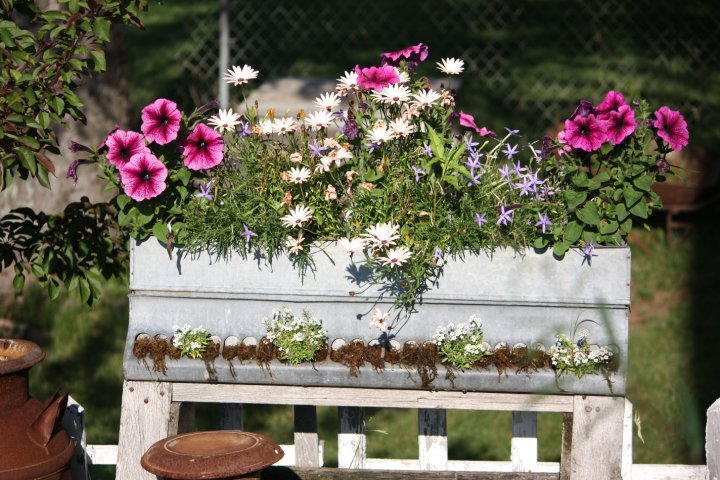 One of my best friends is a huge fan of container gardening. Her decking is teeming with so many pretty potted plants and hanging baskets, there is always something new to look at. Moreover, since getting her decking painted a few weeks ago, her decking has really taken on a life of its own. She is always mixing things up in her garden but her brightly painted decking is definitely her pride and joy. Apparently, she managed to find a fantastic
Deck Painting
company online, so if you are considering upgrading the decking in your garden it might be worthwhile considering a fresh coat of paint.
There are other ways to update your garden decking too. Once you have protected your garden with a sturdy fence and had it fitted from places like Carolina Home Specialists (
https://www.carolinahomespecialists.com/services/fencing/
), then it's time to begin flourishing your garden with beautiful flowers, using minimum effort for maximum impacts. Almost anything that can hold soil can be used for container gardening. Just make sure you put drainage holes in the bottom to prevent soggy roots and rotting plants. The planter above is made from an old
Chicken Feeder
. It is sitting on an old sawhorse to give it more visibility in my garden.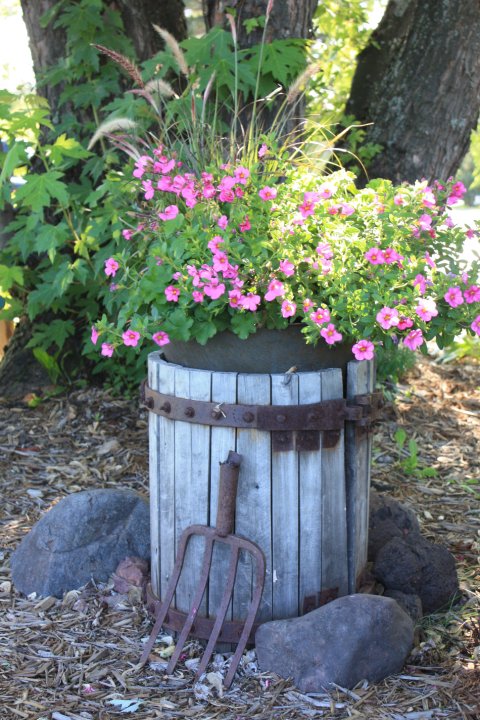 Once you have your containers picked out, it's time to choose what plants you want to put in them. Whether you're planting vegetables or flowers, consider what the plant will do as it grows. Some plants are viney and will grow down the side of the pot so obviously taller containers are better for these.
Deciding on which flowers to plant is where a lot of people become overwhelmed. Start by looking at the big pots the nursery already has planted. You can see they have more than one type of flower and might actually have quite a few.
Also note the color combinations, the height of the plants and if any spill gracefully over the edge of the container. Pick tall for the middle, surround it with medium height, and finish the outside rim with some trailing plants. In gardening circles this is know as "thriller, fillers, and spillers".
While you're at the nursery picking out plants, select a good potting soil mix to fill your pots. When planting, leave room at the top of the container so soil doesn't spill out when you water. You could also opt to buy a weed killer safe around children and pets. These could be available online as well as some offline stores that might have the said weed killers in stock.
There are many different reasons why people start a container garden such as physical, space, or time limitations. Container gardens can be moved around the garden to fill in bare spots and add a splash of color. Deciding on the right pots and choosing some great flower combinations makes for some beautiful containers and a very rewarding experience. Although container gardening is efficient and time saving, outdoor gardening too could have number of benefits. Firstly, you get a healthy dose of Vitamin D working out in the garden, which is good for the bones and immunity system; not to forget the time outside also might lower risks of dementia. Moreover, outdoor gardening needs a lot of body movement, which in turn could promote flexibility and stamina. If you have an outdoor space for gardening, and you are planning to make the most out of it, you might want to check out online stores like Garden stone. As for the different ways of starting an outdoor gardening adventure, you can see them here.
If you outdoor gardening is too much for you and you want to stick to container gardens, there are many sources on the internet that could help you. Search for blog posts or related articles! Additionally, you could check out the following books at Amazon.com.