An Afternoon at the Atlanta Botanical Gardens
I attended a workshop in Atlanta in February and I ducked out for an afternoon at the Atlanta Botanical Gardens.  The weather was unseasonably cold for Atlanta – 40 degrees and very windy – but the grounds were beautiful and I had a wonderful time.  I thought I would share some photos so you could enjoy them as well.
The woman's face in this fountain was almost haunting as I watched her behind the cold running water.  She looked so real… lost in thought.  Beautiful.
This blown glass chandelier welcomes you as you enter the visitor center.
 A bronze statue of a boy playing the flute in the garden.
I loved this rusty metal gate fashioned out of old garden tools.  You can see the Atlanta skyline in the background.
Inside the Dorothy Chapman Fuqua Conservatory.  The tropical plants were amazing.  In the rainforest displays there was a mist that sprayed to create the correct climate conditons for the plants.  It felt so good to be in that warm humid environment.  And, it made for some interesting photo opportunities as well.
There was also an exhibit on Orchids going on while I was there.  I'll post more on that in a separate blog post.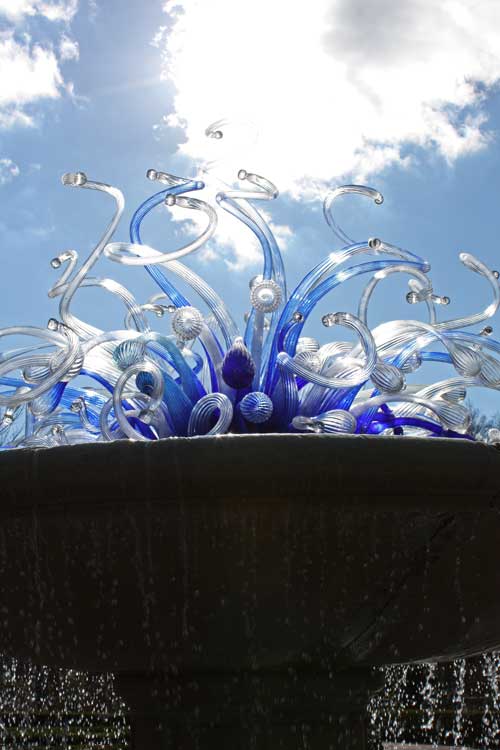 This festive fountain with blue and clear glass beckoned visitors into the Rose Garden.
Click on Atlanta Botanical Gardens  if you would like to see more photos on my Flickr page.