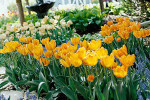 Fall is the right time of year to plant bulbs for beautiful spring blooms. This article will help you select your bulbs and get you started.
How to Get Started With Flower Bulbs
Are you interested in learning about how to get started with flower bulbs?
Here are a few tips that will help to get you started:
Choose the right bulbs.
Being particular about what bulbs you want to plant, while bulb gardening, is not a bad thing. Keep the variety and the quality of the bulbs in the front of your mind while shopping. Selecting a bulb that will fit well into your environment is of highest importance. After you buy your bulbs, store them in a cool dry area that has good airflow. Never stack bulbs on top of each other or in a close pile. Label your bulbs so that you know what you have when it comes time to plant. Check the bulbs frequently for signs of decay while you are waiting to plant them.
Use good planting supplies.
Trowels or bulb diggers are good tools for planting small areas of bulbs. Spades are more useful in planting larger areas. Always remember to fertilize so that your bulbs get all the proper nutrients. When planting in a smaller area, a teaspoon of bone meal can be added into the soil before planting. Label where you plant each bulb so that you can easily keep organized.
Ensure that your bulbs have a happy home.
Proper drainage is critical to the health and survival of your bulbs. They cannot tolerate sloppy soil. Prepare the soil to a minimum depth of eight inches. If you find hard soil, add some compost or manure to aid in improving the soil's quality. Instead of preparing individual areas for the bulbs, make the entire bed comprise of healthy soil. If your soil is unhealthy you will need to get fresh to make sure your bulbs get the best environment to grow in, so if you're looking for topsoil in north Yorkshire, you may want to check out regaltopsoil.co.uk, or additionally, you can go online to check your local area for topsoil delivery
Bone meal is a great tool to achieve extra nitrogen and phosphorus nutrient in your soil. Although phosphate rock can also be used for this, bone meal will break down in the soil considerably faster and can thus be used as a quick fix. Bone meal will not, however provide the long term affect that the phosphate rock will. Another thing to take into consideration is the pH of the soil where you bulbs will grow. Bulbs generally prefer a soil pH of nearly neutral to slightly alkaline.
Plant Your bulbs.
Everyone seems to have their own ideas about the best way to plant bulbs. While some would tell you to plant the bulbs 2 to 3 times their diameter, others would argue that 3 to 5 times the diameter is better. It all comes down to soil weight. Basically, the lighter the soil is, the deeper you should plant. Spacing between bulbs should be 2 to 3 times the diameter.
To achieve a stunning, high impact result, plant your bulbs in groups. Although much of this depends upon taste, generally speaking, bulbs look better grouped with like plants. Tulips, daffodils and large bulbs look best in groupings of at least 10. Smaller bulbs such as crocus and snowdrops shine in groups of at least 15 to 20. Regardless of how you choose to group them, bulbs always look best planted in a straight line.
Plant starting with the largest bulbs and work your way down the line to the smallest. This will achieve an attractive stair appearance.
Once you are done planting, be sure to give your bulbs a nice deep watering. Labeling the bulbs is a good way to keep everything organized. If you don't want signs in your garden, you could sketch a map to remind yourself later how your bulbs are planted.
Visit http://www.GardeningTimes.com for Ideas and Resources to Create The Perfect Garden – Browse our Gardening Supplies and Find many Gardening Tips.
Article Source: Organic Gardening Articles