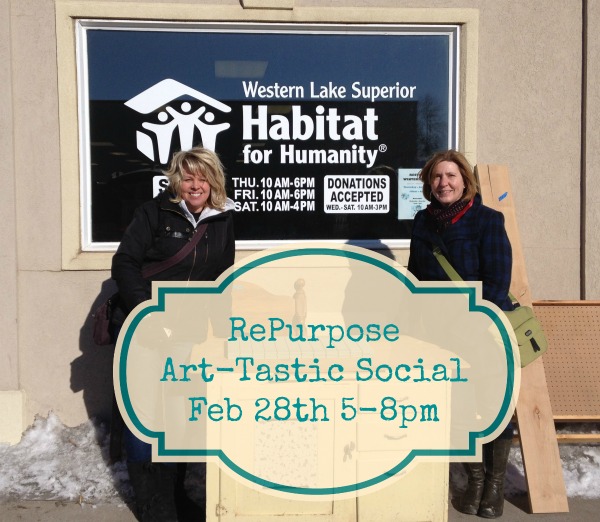 We've been busy here at Gardening Junky getting ready for the Twin Ports Habitat for Humanity fundraiser this Friday night. This is just the latest fundraising event that we have lined up for your pleasure and entertainment, and more importantly, to raise extra funds for this amazing non-profit organization. Of course, we are always thinking about what we can do next, and have been pointed in the direction of these fundraising ideas from places like GoFundMe, (https://www.gofundme.com/c/fundraising-ideas) so we can continue to build additional funds for Habitat for Humanity who aim to build and improve places that people can call home. This can positively change someone's life for the better, so we would love to see as many of you at this event, and any future ones so we can make this possible. If you are in the area, I have listed details of the event from their recent newsletter below.
Happenings at the ReStore

HOPE TO SEE YOU THERE……

ReStore Re-Purpose Art-Tastic Social

Date: Friday, February 28th
Time: 5pm – 8pm
Place: Twin Ports ReStore
1621 Broadway St., Superior, WI

Habitat for Humanity Twin Ports ReStore will be hosting a Re-Purpose Art-Tastic Social at the ReStore. This event, featuring music and refreshments, is free and open to the community. Local community members and Artists will be at the ReStore with an item that they got from the ReStore and Re-Purposed it to create-a-new. The item will then be available to purchase through our Silent Auction; with proceeds from the auction going to Habitat for Humanity. Artists will also have other work on display and to sell.

Here are just a few items that people have picked up to "Up-Cycle".

(The cabinet in the first photo is my project.)
I went scouting for goodies to re-purpose with Gina and Debbie from the Golly G occasional shop.
I picked up a vintage cabinet, some ceramic tiles, and a workshop pegboard. I decided to re-purpose them into an Art-Tastic potting bench. (It was very COLD that day. Gina-left, Me-right.)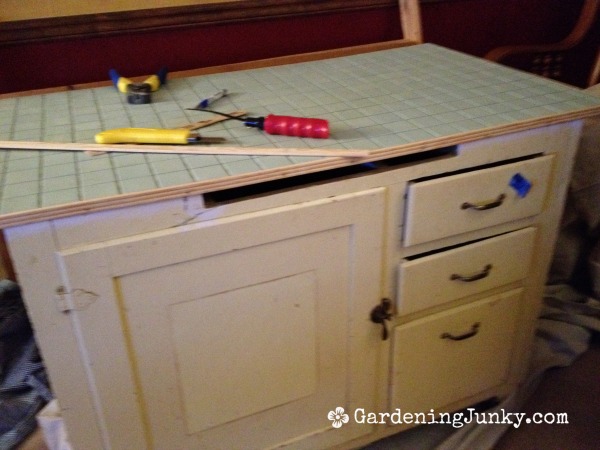 Just getting going. Added trim and cut the ceramic tiles to fit the cabinet.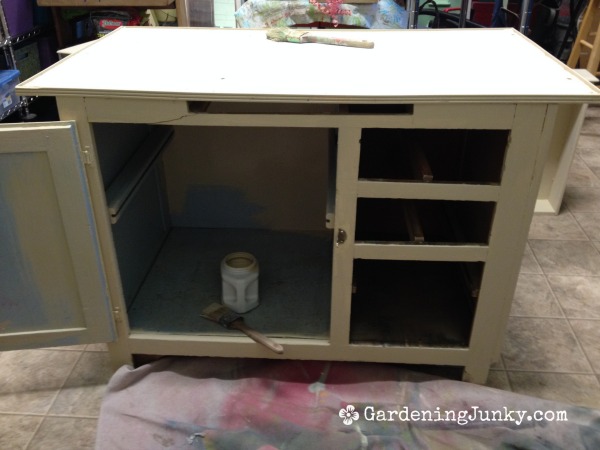 Cleaned it up and gave it a fresh coat of paint.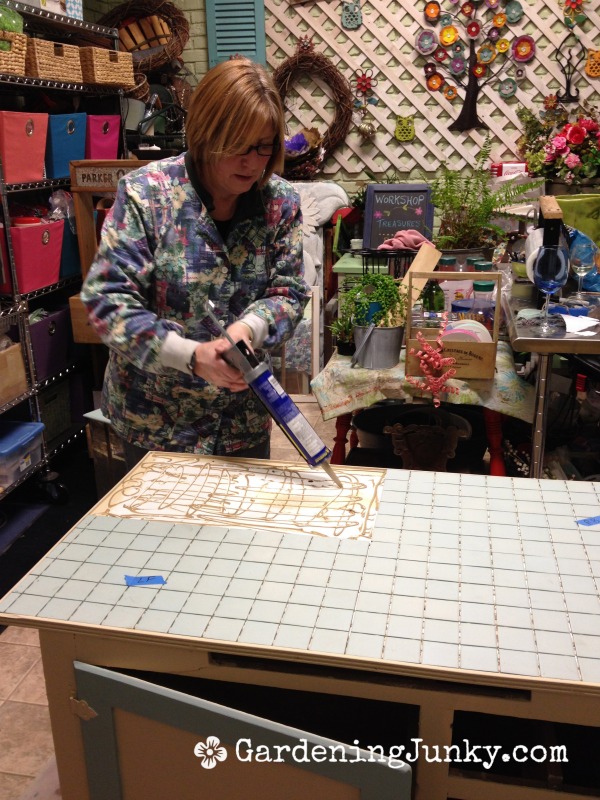 Me – Oh so carefully applying tile adhesive…. (Like the work smock? Old Dr's office uniform.)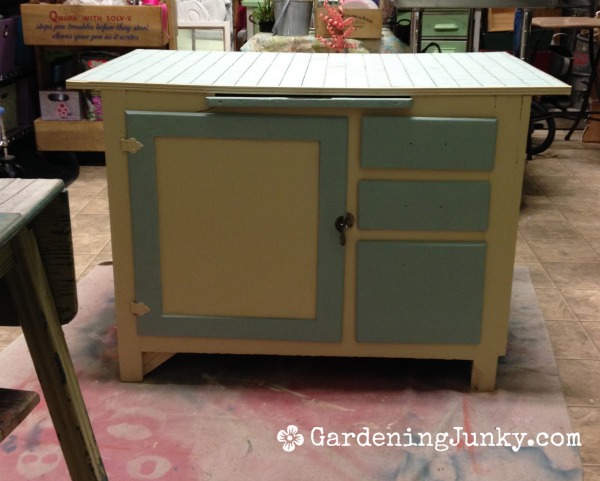 Painted up the trim and drawers to match the color of the ceramic tiles.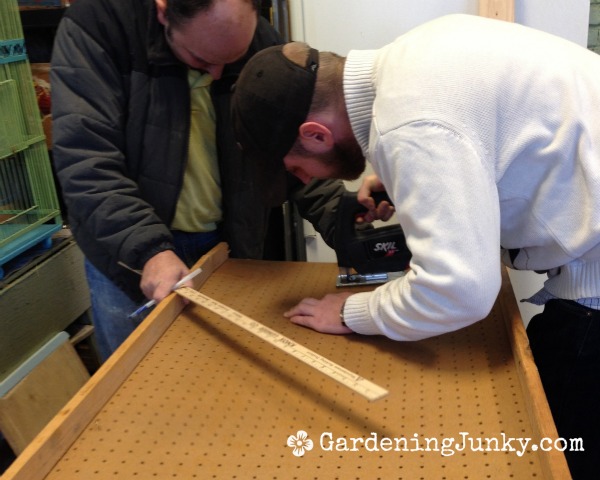 I don't know how it is with you, but for me when family stops by to check on progress – they get put to work! Phil and Matt cutting the backboard down to size for me.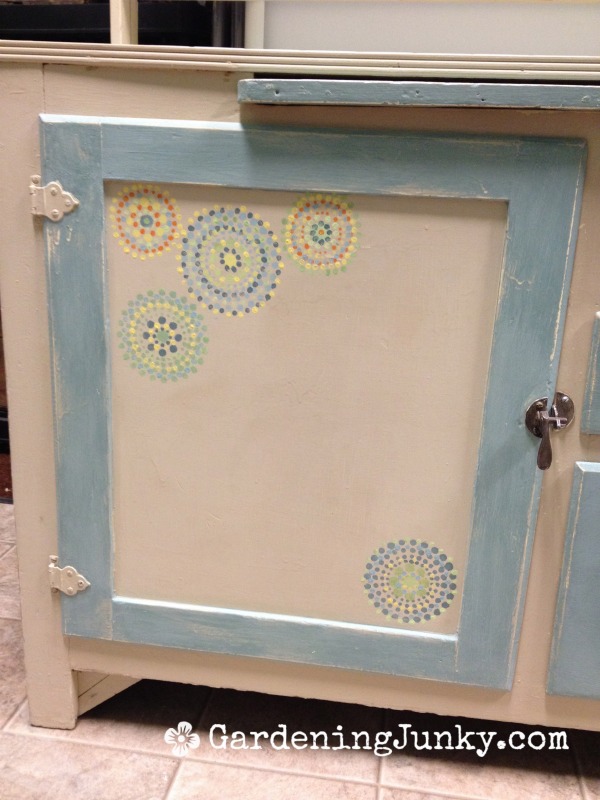 Since the event is called "Art-Tastic" I thought I should add some artsy-fartsy embellishments on the door.

And here it is. Finished and delivered to the Habitat for Humanity ReStore and ready for bids.
Hope to see you there!