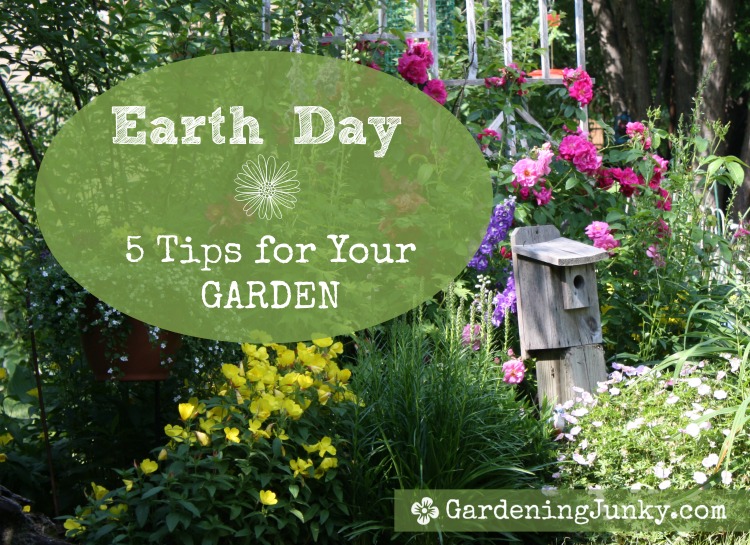 The first Earth Day was celebrated in 1970. It was promoted as a "teach-in on the environment" by Wisconsin senator Gaylord Nelson. Thousands of colleges and universities across the U.S. organized events to bring awareness of the declining state of the environment.
That first Earth Day changed the way we view the world and live our lives every day. Today Earth Day is celebrated around the world by hundreds of millions of people.
Learn more about the history of Earth Day and ways to get involved at the Earth Day Network.
So, what can we, as gardeners, do to help? It is easier than you think. Here are five simple practices you can use in your garden to make a difference.
Create habitat for birds and pollinators.

Damage to the environment negatively impacts the populations of birds and pollinators, such as bees and butterflies.

Plant plenty of nectar and host plants to create a vibrant habitat for them. Bird feeders are another way to attract birds into your garden. And, they also happen to be a good housewarming gift. There are lots of online options (https://wefindthebestgifts.com/) for purchasing bird feeders.
Support local growers.

Shop for plants from local greenhouse growers and farmer's markets.

This can greatly r

educe carbon emissions created when transporting goods over long distances. It also boosts your local economy.
Use natural mulch, such as straw, shredded bark, or leaves, in your garden instead of petroleum based black plastic.
Compost.

Reduce waste while giving your garden the nutrients it needs to grow lush and healthy plants.
Use rain barrels to collect water for your garden.

Eliminate runoff and cut down on debris and chemicals entering your local watershed.
Keep these tips in mind as you plan your gardens this year. By simply taking a few of these small steps, we can all make a difference. But at the same time, we must remember to create a garden that we are proud of, and if that means building your very own greenhouse, then that is what you must do.
Greenhouses can do so much for your garden. Not only can they make a difference to the overall appearance of your outdoor space, but they can have a wide array of benefits to your plants and crops too. And if you cover the line of the roof with a type of poly film, that you can get from places like Pro-Tect Plastics, (https://shrinkwrapcontainments.com/t-panda-premium.aspx), your items can be protected from all seasonal weather, as well as adjusting the amount of light that comes into the space. Now I don't know about you, but that sounds amazing. Maybe I should get a greenhouse of my own, and then at least I will be able to save money on vegetables. If you don't like the idea of a greenhouse, a shed might be a better alternative for you. Sheds are a great place to store tools and plant pots, so if this sounds more appealing than a greenhouse, check out sheds for sale in Georgia (or local to you). Sheds can be built on site or they can also be pre built and delivered to you, so whatever is best for you, you can choose. These sheds need to be sturdy and secure so before you fill them with garden storage make sure they are fixated. If you want to know whether you need a foundation for a shed then you can look it up online and find out the different ways you can secure a shed and the pros and cons of it. After all, you don't want weather or pests to get in and ruin your items. Furthermore, sheds can be useful! You can fix gutters to them to collect water in barrels as mentioned earlier, and use it to water the garden!
So, go on. What are you waiting for? Get started on your garden now.
Resources:
Earth Day information: http://www.earthday.org
Available on Amazon:
The Backyard Bird Lover's Ultimate How-to Guide by Sally Roth
National Wildlife Federation's® Attracting Birds, Butterflies, and Other Backyard Wildlife
Algreen 81002 Agua 50-Gallon Rain Water Collection and Storage System